In 2020, as a result of the coronavirus pandemic and subsequent physical office closure, the MAAR Education Foundation began offering TREC-approved continuing education courses via livestream on Zoom. The transition to online learning was part of the Association's efforts to keep everyone safe—members, staff, course instructors, course volunteers, etc.—and minimize any risk while continuing to serve members' education, training and professional development needs.
The transition to online learning has been a success and, as a result, efforts are underway to make online learning a permanent part of the MAAR education experience. In light of the ongoing pandemic, online learning will continue at MAAR for the foreseeable future.
Once it becomes safe to gather in groups, the Association will begin offering "hybrid" courses wherein classes are taught in person and socially-distanced while being livestreamed. Members will have the option to choose to attend classes in person or via livestream on Zoom.
All members who choose to attend classes online are subject to the MAAR Education Foundation's guidelines for attendance. Please take a moment to review the guidelines before registering for online courses. Any member who fails to adhere to the guidelines may be penalized by forfeiture of CE credit.
---
The CE Shop
MAAR offers online education by partnering with The CE Shop, one of the nation's top online real estate education providers. Our goal is to provide high-quality affordable education when you need it, where you need it, self-paced for your convenience.
The CE Shop makes online learning simple and hassle-free. All education offered by The CE Shop is accredited and approved for continuing education in the state of Tennessee, including the TREC Core Course and Code of Ethics. Once you complete a course, your continuing education credit will be reported to the Tennessee Real Estate Commission.
Members may click the image below at any time to visit MAAR's CE Shop website and receive a discount on online courses.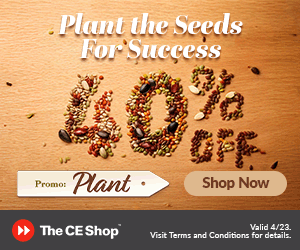 ---